Click Image to Enlarge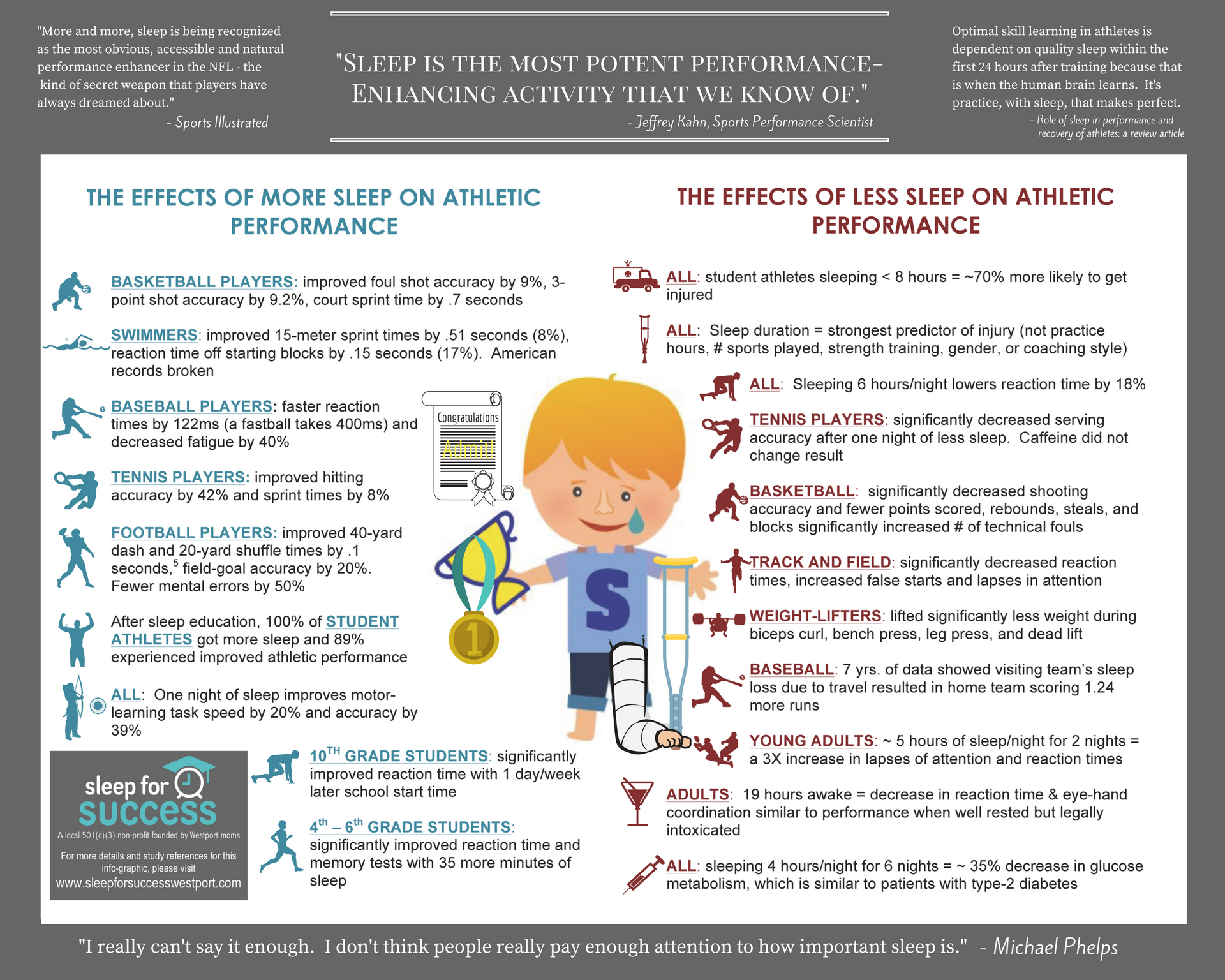 Click here for study references for the info-graphic above.
Sleep has such an enormous impact on athletics that scientists have called it
"the most potent performance-enhancing activity that we know of."
30b
While age-group coaches remain largely unaware of this research, collegiate and professional teams are not. In fact, many teams have sleep consultants, including the Boston Bruins – who credit sleep scientist Dr. Peter Czeisler with helping them win the Stanley cup – the Portland Trail Blazers, Chicago Bulls, Boston Celtics, Miami Dolphins, New England Patriots, Philadelphia Eagles, Jacksonville Jaguars, Cleveland Browns, Chicago Cubs, Manchester United soccer, Chelsea soccer, Real Madrid Soccer, Stanford University, Tennessee Volunteers, and the list goes on.
30b, 30c, 30d, 30e, 30f
When defending national champion Clemson opened its new $55 million football complex in January, "its greatest benefit to player performance was its dedicated nap room."
30b
So why is sleep now considered "the most cost-effective secret to sporting success"?
30e
As explained in detail below, sleep directly affects (1) reaction times, (2) skill and motor development, (3) muscle recovery and growth, and (4) judgment.
(1) Reaction times
Sleep deprivation significantly impairs athletes'
reaction times
and ability to quickly spot visual signals.
39a, 29, 66
This is in part because during sleep the body replenishes neurotransmitters, which are the chemicals that relay signals within the body.
39b
When elite collegiate swimmers increased their sleep as much as possible and Major League Baseball players slept 1.1 hours more per night for just five nights, their reaction times improved by 150 milliseconds (17%) and 122 milliseconds (13%, a fastball takes 400 milliseconds), respectively.
31, 31a
. On the flipside, if adolescents get a moderate amount of sleep but not the 8-10 hours they need each night, the neurotransmitter "messengers" don't work as well and reaction time can diminish by over 18%.
30b
And after just one night without sleep, or one week of sleeping four to five hours a night, reaction times triple.
40a, 41b, 42b
This is an impairment in reaction times equivalent to being legally intoxicated.
40a, 41b, 42b
As sports writers have pointed out, these slower reaction times result in more injuries, missed tackles, lost races, and "dunks that end up on SportsCenter" rather than "timely defensive rotations."
42a, 43b
(2) Learning skills and motor development
Even elite athletes are constantly honing their motor movements and
learning new strategies and skills
, which is another reason why adolescents need to sleep at least 8-10 hours.
37,
32
The first night following training is when the human brain learns whatever a person practiced during the day.
33, 40a, 32, 1, 2, 27
So contrary to the popular saying, it's not practice that makes perfect but "practice, with sleep, that makes perfect":
33,
33a
"Solidifying knowledge requires both REM and deep sleep. The first aspect, which happens during deep sleep, is basically a rehearsal: the brain files away the facts and practices the moves learned that day. The second part is integrating those facts and lessons into existing knowledge. This happens during REM."40a
Most REM sleep occurs in the "final quarter" of a full night of sleep
32
– the time when we are currently waking up our teens to get ready for school. The result is that athletes "learn some new plays in practice, but it doesn't become automatic, and come game time it might look as if they never practiced at all."
32,
33,
40a
And catching up on sleep even on the very next night after practice doesn't change this result, making "quality sleep on the first night after training critical."
32,
33,
40a
This is one of the many reasons that both the NCAA
32
and the International Olympic Committee
36
have released guides for coaches and athletes explaining the adolescent sleep cycle shift and encouraging coaches and athletes to do whatever they can to adapt daily schedules to adolescents' sleep cycle, rather than trying to adapt student athletes' sleep cycles to current schedules. As the International Olympic Committee explained, there's "a prevalence of insufficient sleep among adolescents, often prompted by early school-start times" and "interventions (tailored training and even perhaps schooling schedules) to support adequate sleep in youth athletes should be implemented."
36
(3) Muscle recovery and growth
Sleep is also essential to
muscle recovery and growth, tissue repair, and ordinary developmental growth
in student athletes.
41,
30b,
30e,
32,
32a,
33,
40a
Over 95% of natural human growth hormone and sexual maturation hormones are released during sleep.
41,
30e,
32,
33
Human growth hormone is responsible for cell growth and regeneration – including muscle growth – and for regulating body composition.
41,
30b,
32,
33
Testosterone, a sexual maturation hormone, has important beneficial effects on muscle mass, strength, vigor, and well-being in both male and female athletes.
33,
40a
It also impacts decision-making abilities in such a way that "there is no way a player is performing at his [or her] peak when testosterone is depleted."
40a
When an athlete does not get enough sleep, the levels of both types of hormones drop dramatically.
33,
40a
By way of example, after just one week of sleeping five hours or less each night,
a man's testosterone level falls as if he's aged 11 years
.
43,
40a
And growth hormone drops so significantly with sleep loss that not only is there a negative effect on tissue healing and recovery, but some research indicates that without enough sleep, a day's training can actually make an athlete weaker rather than stronger.
33,
44
(4) Judgement and mood
For beginning and professional athletes alike, getting more sleep
reduces errors and improves judgment
.
32,
33,
40a,
40b,
30b,
43
For example, by sleeping more collegiate football players cut mental errors in half,
30b
while professional basketball players who slept less the night before a game committed significantly more technical fouls.
40a,
44
Amongst younger athletes, sleeping 5 hours a night for only two nights has been shown to cause a 3x increase in lapses of attention
45
– even if the athletes are able to catch up on sleep on the weekends.
43
Why? Sleep loss causes a reduction in brain connections in the prefrontal cortex, which is responsible for judgment, and the amygdala, which is responsible for emotion.
40a
Even minimal sleep loss lowers the threshold for containing anger because the amygdala can become 60 percent more reactive.
40b
And, as the NCAA has explained, athletes need their prefrontal cortex functioning optimally because sports involve decision-making, and an athlete's overall performance will suffer from errors caused by less sleep:
"Decision-making … is crucial on the field. Sleep loss impairs your ability to make creative thoughtful decisions. Worse, sleep loss even impairs individuals' ability to be aware of their own impairments. This leads to overconfidence and a lack of insight into poor decisions."32
Sleep reduction also causes depression, poor moods, decreases in "vigor," and, obviously, tired players.
45,
46,
47
These are not the best mental states for any teen engaging in sports or even physical activity in general
****************
In sum and for the numerous reasons listed above, we now know that sleep may have "the most potential for positive impact on athletic performance"
30
– more than training modifications, coaching, nutrition, conditioning, etc. Even Michael Phelps, the most decorated Olympian in history, sleeps 11-12 hours a day and has said that training and sleep were equally important when it came to winning his 28 medals:
65
"I really can't say it enough. I don't think people really pay enough attention to how important sleep is.65
And we also sleep deprivation causes athletes perform significantly worse and jeopardizes their safety, as illustrated in the info-graphic below. It is a unequivocal, scientific fact that student athletes cannot get the sleep they need each night to succeed to their full potential or stay safe unless middle and high school starts at 8:30 a.m. or later.
66,
67
And it is an unequivocal, scientific fact that when schools have switched to later start times, students get more sleep.
67
In fact, students have had faster reaction times even when only one school day per week started an hour later.
36
The extra hour of sleep that these teenagers logged every week had a significant impact on their performance.
36
And many athletic directors at school districts that changed to later start times report that their teams performed better following the change and that general participation increased in their sports programs.
37,
17
So as parents an coaches, it is time for us to read the science - like coaches and players in the NCAA and professional leagues - and stop using disruption of sports as an reason NOT to have later school start times. If we don't, much of our student athletes' efforts at practice will continue to go to waste.